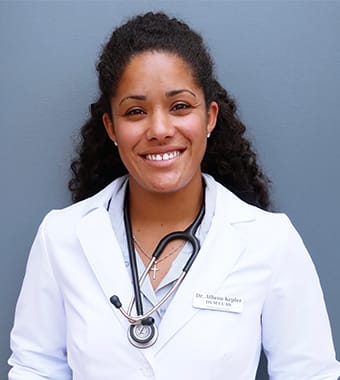 Dr. Athena Kepler
Dr. Kepler was born and raised in Southern California and attended University of California, Riverside for a BS in Bioengineering. She received her DVM from Western University of Health Sciences in California. Dr. Kepler's own athletic career and her love for horses and dogs created a strong passion for sports medicine, fitness, and rehabilitation for both horses and dogs.
She competes in the dog sport of Schutzhund (IGP) with her German Shepherds, and has two horses, an American Quarter horse she trains for Reined Cow and Ranch Roping, and a Dutch Warmblood she trains for Eventing. Her horse career started with training horses then led to podiatry and farriery and has come together with her Veterinary degree.
Her Dog career started with just training and competing in the sport, but the fear of injury for her own dog led her to learn more and focus on fitness and sports medicine for canine athletes during veterinary school.
Dr. Kepler enjoys helping others and helping others help themselves through education and empowerment. She believes in looking at the entire animal rather than single aspects and combining nutrition, fitness, physical therapy, alternative therapies, and western medicine to care for them.
She defines her purpose in life as using her engineering background and innovativeness to provide integrative medicine for both horses and dogs.